June 30th, 2015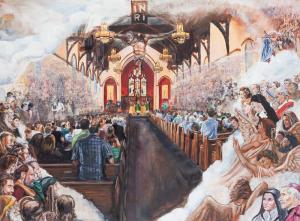 Five years ago, I embarked on a journey to create my masterpiece in art. As many of you know, I am a convert to the Roman Catholic Church and formerly of the Baptist faith. Being Catholic now, for 14 years, I've noticed that many Catholics sadly have no understanding of their own faith. And so it was, at an Easter service in 2010, that I noticed a family who had obviously not been regular Mass attendees. Their children were generally disruptive and constantly asking "How much longer do we have to stay here?" or "Can we go now?"

Yes, I was distracted. But as it turned out, in a good way. I began to wonder if those children would rather be home playing some video game with some fantastic fantasy world they could interact in. Would they rather be watching a DVD of the latest Harry Potter movie? And my mind began to see what was really around me. A world that was even more wondrous than any of those fine fantasy worlds we dream about in fiction. I wondered what those kids would think if their eyes could be opened and they could see the great cloud of witnesses that were participating in the Mass with us? What would they think if they saw Purgatory opened up and saints receiving their robes from the Blessed Virgin Mary or if they could see angels flying all about them. If only they could have seen that time and space somehow become irrelevant during each and every Mass, as saints to be on present earth all worship together in their parishes world wide on any given hour in any given day, and they are united together with every Mass that has ever been celebrated since the Lord's Supper in the upper room just prior to the crucifixion of Christ. Every Mass is a time travel story to behold. We participate in the last sacrifice ever made for our sins each and every time we go to the Holy Mass, and we do not crucify Christ again, but are transported back to that day and the hammer driving the nails in Christ's flesh are our own. And yet, we are also in Heaven with that great cloud of witnesses who have also experienced the same thing that we have, and they are up there praying for us.

These are the things I saw that Easter service in 2010. And I began to create the painting then, having found a cast aside Masonite sheet in the basement, not knowing it was meant for a humbler purpose. And yet, having come across some troubles early on in the painting that I wasn't happy with, I in turn cast this sheet aside again, and finally, at the behest of my mother and sister, and my girlfriend, and at least one other Facebook friend that happened to come across the unfinished image on my Facebook page, I completed this painting in June of 2015. I hope you will enjoy it and share the link to the print page at Fine Art America to your Catholic friends. And please do not spread around the copyrighted image above, and spread the link instead. The image is copyrighted by me and to have the image spread around without any mention of the artist's name and contact information, would of course be counterproductive to the purpose of LinkedIn. Thank you. Enjoy, and if interested .. buy a print or a package of greeting cards. :)
December 9th, 2013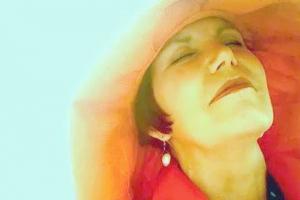 "Bryan Bustard is sure to please and will exceed your expectations. Bryan is easy to work with; he is flexible and continues working on the commission until the client is happy. He is willing to experiment with artistic styles that may be in line with the client's vision for the final result. Call Bryan to discuss your next art project."
Barbara Pinson
owner Pinson Cosmetics

"I have watched Bryan grow and improve as an artist for over 35 years. During that time I've seen his proficiency increase as he learned to work with different mediums, including oil, acrylic, and graphite. His subject matter is always imaginative and well rendered. His prolific output is a testament to his professionalism and dedication. The quality of his work has earned him an art gallery on my own website at the link below. I would recommend Bryan's unique creations to anyone who appreciates quality artwork."

http://www.phpbber.com/phpbb/viewtopic.php?t=6759&mforum=allscifi

Bruce Cook



I have followed Bryan's career for many years. He is a talented and dedicated artist, with a unique insight when it comes to capturing the subjects of his work."
Bonnie Edge


Bryan is not only a very talented artist but a wonderful friend. I know Bryan from Facebook we've never met face to face yet but I hope to one day. What has Bryan done for me? He's been an amazing friend to me. What makes Bryan stand out from other professionals? His kindness, sense of humor, his talent . He's just an all around great person.
Tonya Hinson


"I have purchased some of Bryan's work and am quite pleased with its beauty. Bryan and I met through the internet; he and I have many common interests. His talents are varied; some of his artwork is inspirational, others are whimsical, still, others are eclectic. I recommend that art lovers look to start their own collection of paintings by Bryan Bustard. They also make a suitable gift for almost all occasions."
Marianne Elliot
May 7th, 2013
Have you ever seen the old Preston Sturges comedy, "Sullivan's Travels"? Throughout the movie, the main character, played by Joel McCrea is a movie director who wants to make an important statement. He decides to ditch his identity and go incognito among the poor, and ultimately he ends up going back to being a slapstick comedy director because that's what the poor people need. THAT was his big statement after all.

I've wanted to do things on a grand scale. As a Bob Dylan tune that the Grateful Dead often covered suggests, I want to create my "Masterpiece". Well, someday, perhaps, when I least expect it, I'll create something that has a profound effect on people. But oh well... if there's one theme that pervades much of what I do, its "movies and music". And until the day comes that I create something of more importance, I borrowed what I consider to be a masterpiece of the Grateful Dead as a theme for my best selling print.

I hate to say it. I'm pretty somber and way too serious sometimes. I get depressed and even forget Heaven sometimes. I love going to Mass each week and I find some joy there, but for some reason, in general, no experience is quite as enjoyable as a Grateful Dead concert. To me, the MOST joyful song the Dead ever did, the one that makes goosebumps pop up on my skin EVERY time is the song, "The Music Never Stopped". From the opening notes, the description of a muggy hot summer day, the implication of drying crops makes me feel the overbearing heat ... and then the band comes! And with the band comes the cool breezes, the corn begins to grow into a bumper crop. Joy fills the air and my heart. I see all the members of the band from the days with Pigpen to the final days with Vince Welnick. I see the fireworks, caliopes, and clowns. I see old men and children, Deadheads twirling. I see the crazy rooster crowing midnight and fish rising up like birds. And that's what I put into my painting. All the joy, all the color and all the motion and music. Click where it says to click for "more information" to see the painting and buy your print if you so desire!